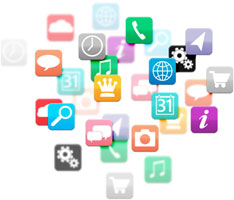 No longer having a server inside the organization, it has the best solution to cope with changes in the social welfare environment and changes in the technology environment
Cloud-based system that provides the best work efficiency by combining
advanced technology in the social welfare field
A system that stores DBs in the web cloud without having a server in the web.
15-year business trips Field-based services created by social workers only for social workers
Welfare Comprehensive Service
It integrates all resources of social organizations with solutions that support all administrative tasks such as accounting / personnel / salary / sponsorship / equipment / user management required for social welfare organizations, and extended functions such as groupware / RFID / homepage / online enrollment & Provides powerful functionality to automate.
-Main Provided Functions
Sponsorship / CMS Management, User Management, Target Person Management, Short-term Facility Management, Linkage System, SMS
RFID Service
RFID (Radio Frequency Identification) refers to a wireless identification system. When a member card with an electronic chip is contacted with an RF reader, the RFID system (Radio Frequency Identification) handles attendance management and receipt management of members in real time, issuance of a ticket issuance receipt It is a very convenient modernization solution that automatically processes the processed data
-Main Provided Functions
Automation of issuance of various food tickets and receipts, automatic database of performance grasp, and efficiency improvement of policy decision on welfare program and operation.
Groupware service
For the social welfare institutions that have led the market for social welfare informatization as an essential item of welfare facility information that enables electronic payment and schedule management, announcement delivery, business collaboration, project management, etc. anywhere in the world where the Internet is connected, It is an ambitious service
-Main Provided Functions
Electronic Approval, Institutional Notification. Bulletin board / archive, schedule management. message. File automatic conversion, Welfare integrated solution and interworking
Smart communication
As a communication solution to increase the efficiency of telephone service and counseling work, which is frequently used during social welfare period, it can be linked with welfare comprehensive solution so that it can cope with customer consultation and administrative work quickly and actively, thereby maximizing work efficiency
-Main Provided Functions
Automatic call function, automatic popup display of basic information of caller. One-stop registration / viewing / modification, modification, sending one-stop SMS, etc.
Credit card service
It is a service that enables users to auto-register for programs that they attend at the same time as credit card payments. This service automatically checks payment details and automatically calculates the payment status by day, member, and program
-Main Provided Functions
Registration and payment of membership fees, simultaneous payment support for registration to multiple programs, simultaneous printing of card receipt and program registration certificate (receipt), etc.
Integrated security services
The next generation of integrated security systems can block both internal and external threats and provide the same cost-effective benefits of installing a network view between the facility and its affiliates or between the facility and the mobile / telecommuter
-Main Provided Functions
Virus and hacking prevention, automatic update of vaccine Set access status per user. Zombie PC detection and spread prevention, LAN Wear prevention and more
Homepage Service
Produce a specialized homepage with necessary functions and characteristics for social welfare institutions.
-Main Provided Functions
Easy and convenient admin page